Cash prize money will be given to the first three winners in cluster, block, district, division, and state level competitions
Chief Minister inaugurated state-level competitions under Chhattisgarhiya Olympics
Raipur (thestates.news)|  Chief Minister Bhupesh Baghel on Sunday announced that Chhattisgarhiya Olympics will be organized every year in the month of September-October to promote the traditional sports of Chhattisgarh. He was addressing the inaugural ceremony of state-level competitions of the Chhattisgarhiya Olympics at Balbir Singh Juneja Indoor Stadium in Raipur. Besides, he also announced cash prizes for the participants securing first, second and third positions in the cluster, block, district, divisional and state-level competitions of the Chhattisgarhiya Olympics. The Chief Minister kick-started the state-level Kabaddi game competition of the Chhattisgarhiya Olympics with a toss. Sports and Youth Welfare Minister Shri Umesh Patel, Food Minister Shri Amarjeet Bhagat, Chhattisgarh Housing Board Chairman Shri Kuldeep Juneja, Raipur Mayor Shri Aijaz Dhebar, Chhattisgarh Tourism Board Chairman Atal Srivastava and State Youth Commission Chhattisgarh President Shri Jitendra Mudaliar were present on the occasion.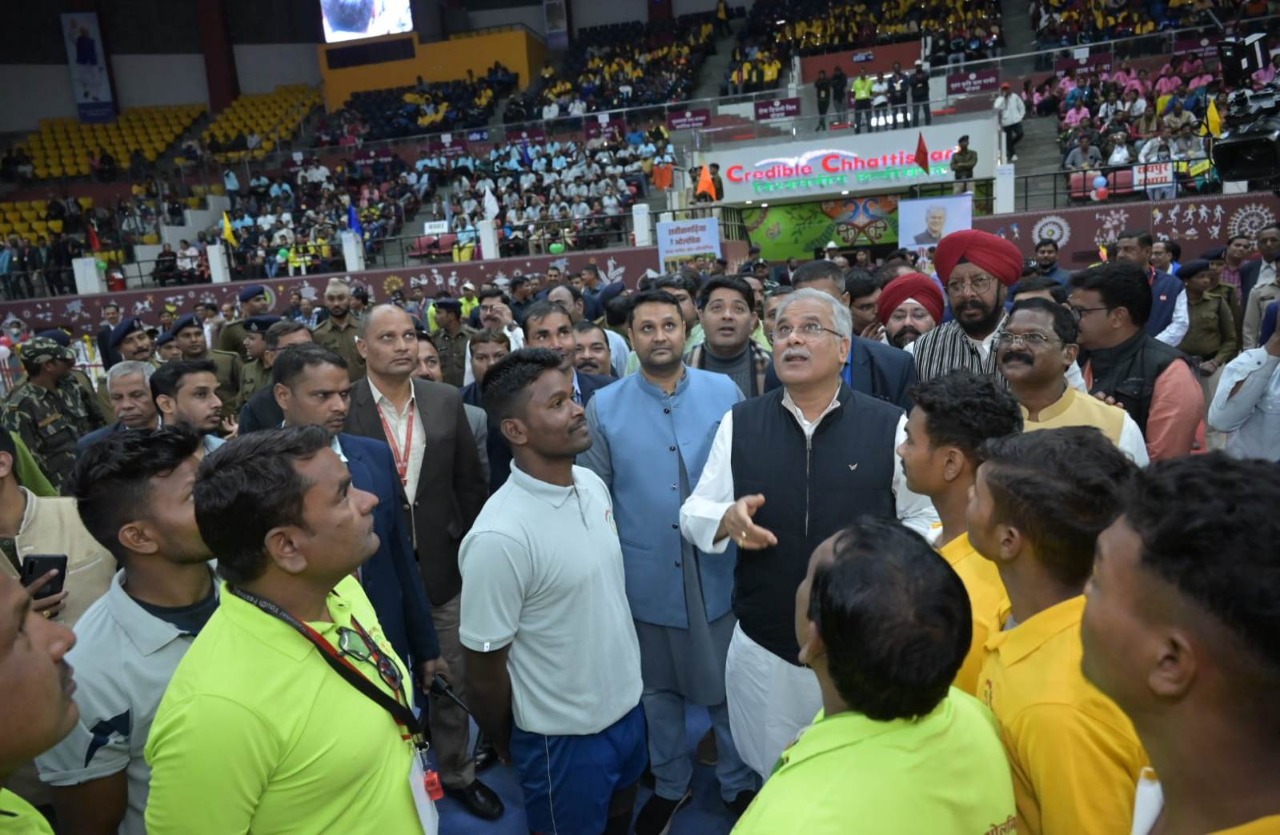 Addressing the divisional-level winning players present in the stadium, the Chief Minister said traditional games hold a special place in the state's culture. Chhattisgarhiya Olympics games have been started to bring back the era of traditional games and create an environment to make these games flourish. There is a lot of enthusiasm among people across the state for these games. People of all age groups from children to elders, women and youth participated in these games with great zeal. A positive atmosphere was created for sports in every village.
He added that women especially married ones also took an active part in it.  He cited an example of a 40-year-old woman who came to his 'Bhent-Mulqat' programme organized at Mulmula village in the Janjgir-Champa district. The woman told him that she was the winner of the 'Gedi' competition. She said that she did not get a chance to play after her marriage. However, she got a chance when she participated in the Chhattisgarhiya Olympics started by the state government. She suggested that this competition should be organized every year.
Addressing the gathering on the occasion, Sports and Youth Welfare Minister Shri Umesh Patel said that this initiative of Chief Minister Shri Bhupesh Baghel is reviving the glory of traditional sports of Chhattisgarh. Work is being done to promote Chhattisgarhi culture under the leadership of the Chief Minister. A public holiday has been declared for the local festivals besides celebrating them across the state in a grand manner.
Nearly 25 lakh people participated in rural areas and 1.30 lakh people in urban areas Additional Chief Secretary, Sports, and Youth Welfare Department, Smt. Renu. G Pillay said that about 1900 participants from all the districts of the state are participating in this state-level event. These competitions will be held till 10 January 2023. She said that more than 25 lakh people from rural areas and more than 1.30 lakh people from urban areas participated in the Chhattisgarh Olympics. She informed that 14 types of traditional sports competitions are being organized under the Chhattisgarhiya Olympics which include Fugdi, Billas, Bhanwara (Indian Spinning Top), Baati, Kabaddi, Sankhali, Tug of War, Langdi, Pitthul, Gedi race, Kho-Kho, Gilli Danda, long jump and 100 meters race.
14 types of traditional games, Two categories: Individual and Team
14 types of traditional sports have been included in the Olympic games. The games falling under the team category include Gilli Danda, Pitthul, Sankhali, Langdi race, Kabaddi, Kho-Kho, and Kancha games. Similarly, games under the Individual category include Billas, Fugdi, Gedi race, Bhaura (Indian spinning top), 100-meter race, and long jump.
Sports and Youth Welfare Secretary Shri Neelam Namdev Ekka, Director Smt. Shweta Srivastava Sinha, along with public representatives, citizens, senior officers and players were present in large numbers on the occasion.