Raipur (thestates.news)|  Kalinga University, Raipur is a NAAC B+ accredited university with NIRF ranking in the band of 101-150 and it has truly emerged as a centre of excellence in higher education in central India. All the courses of the university are recognized by the approving authorities like University Grants Commission, Bar council of India, Pharmacy Council of India, All
India Council for Technical Education, National Council for Teacher Education etc.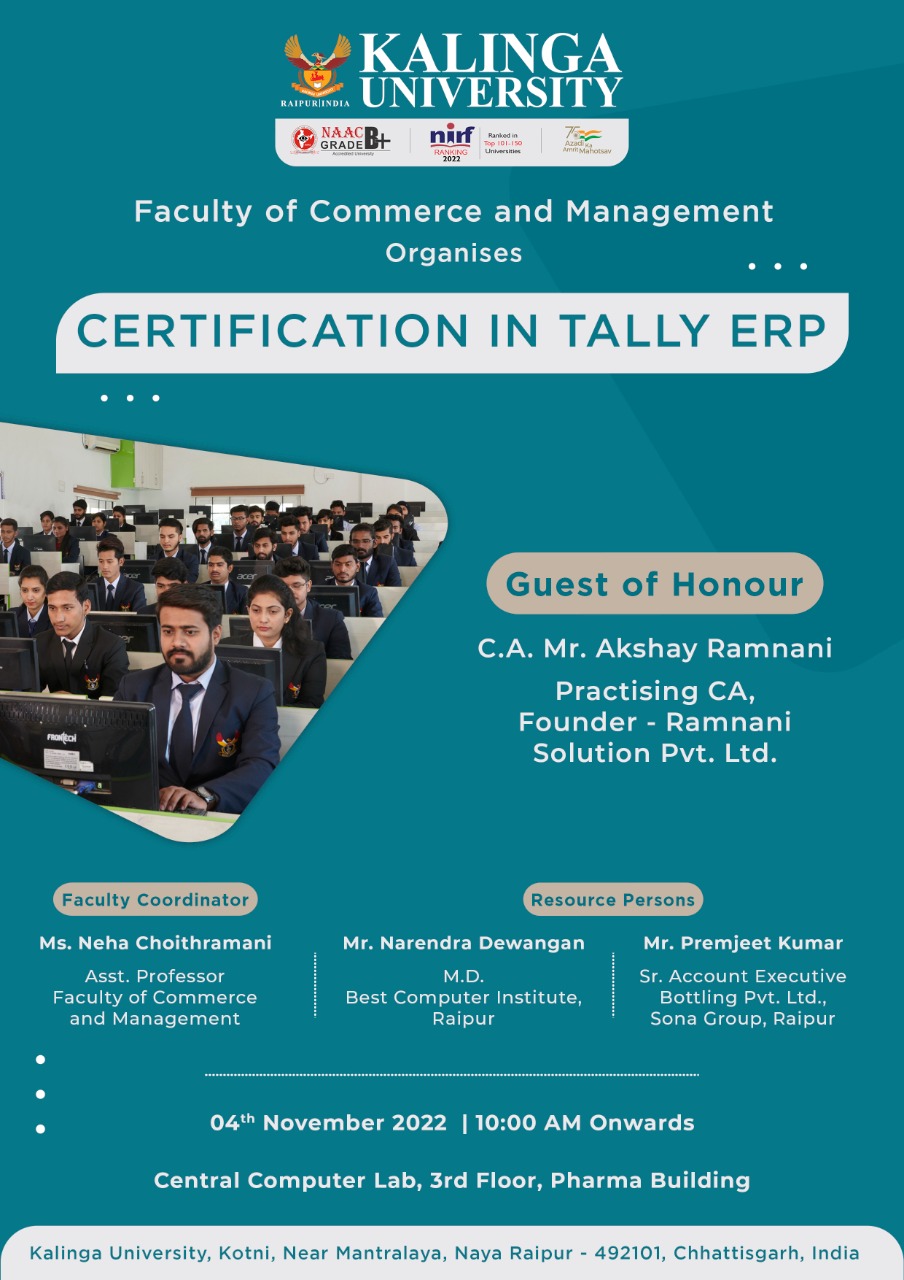 Kalinga University, Raipur is a well-known educational institute that focuses on quality education and research. Kalinga University is committed to strive for excellence in teaching, innovation outreach for knowledge creation and provide enhanced and integrated training to our students. The Faculty of Commerce and Management organised a workshop on "Certification in Tally ERP" for providing the practical knowledge about basics of Tally.
The event was inaugurated by the guest of honour C.A. Akshay Ramnani followed by a speech given by him on the importance of Tally. The guest was welcomed by Dr. Abhishek Tripathi, Dean of Commerce and Management.
Firstly, the students were taught about the installation of Tally in their computers. They learned about how to create company, ledgers, stock groups etc. in the Tally software. Also, they learned about the recording of purchase and sales, payment and receipt transactions and set GST details in the software Tally.
At the end a question and answer session was conducted to test the learning and
understanding skills of the students. Also the queries related to the subject matter were fairly answered.
The resource persons of the workshop were Mr. Narendra Dewangan and Mr. Premjeet Kumar. The event was coordinated by Ms. Neha Choithramani, Assistant Professor, Faculty of Commerce and Management. The session was also attended by Dean and Faculties of the concerned department. Overall, the workshop proved to be knowledgeable. Also the feedback
collected later has proved its positive impact.
The Registrar of the University, Dr. Sandeep Gandhi, appreciated the efforts and reiterated that these kinds of workshops prepare the students for the practical world. Thus Kalinga University has always proved to stand firm on its commitment of providing excellent service to the students and preparing them for the current market competitions.