Naya Raipur, (thestates.news) | Students at Kalinga University came to know about the career opportunities emerging in the field of Bioinformatics, Biochemistry and Microbiology through a technical session conducted at Kalinga University campus auditorium. Key Speaker was Dr. Parakh Sehgal, Associate professor, Department of
Biotechnology. The seminar organized on 07 th May, 2022 (Saturday) at 11:00 AM.
Mr. Abhishek Sharma, Director (Marketing) gave welcome speech and shared his experience about his own journey of finding perfect career with students. He informed that career can be chosen either through talent based or through education based. He gave example of Late Lata Mangeshkar, Sachin Tendulkar, Virat Kohli and other successful people. It was followed by the presentation of Dr. Parakh Sehgal who had 12 years of teaching experience. She explained key terms and importance of Bioinformatics, Biochemistry and Microbiology to the students during interactive session. Students came to know about the importance Bioinformatics which help in becoming a scientist and analysis bulk data through the use of computers. Medicines for many diseases are yet to be discovered, the invention of which could be accomplished by the means of Bioinformatics. Dr. Parakh mentioned that there are over 80,000 microbes present in a human body which are unknown to mankind. Research and data analysis has to be done using computers, it's the study which helps in getting jobs in reputed companies both in
India and overseas. She explained about the effect of food we eat in human body and importance of tests performed by biochemists.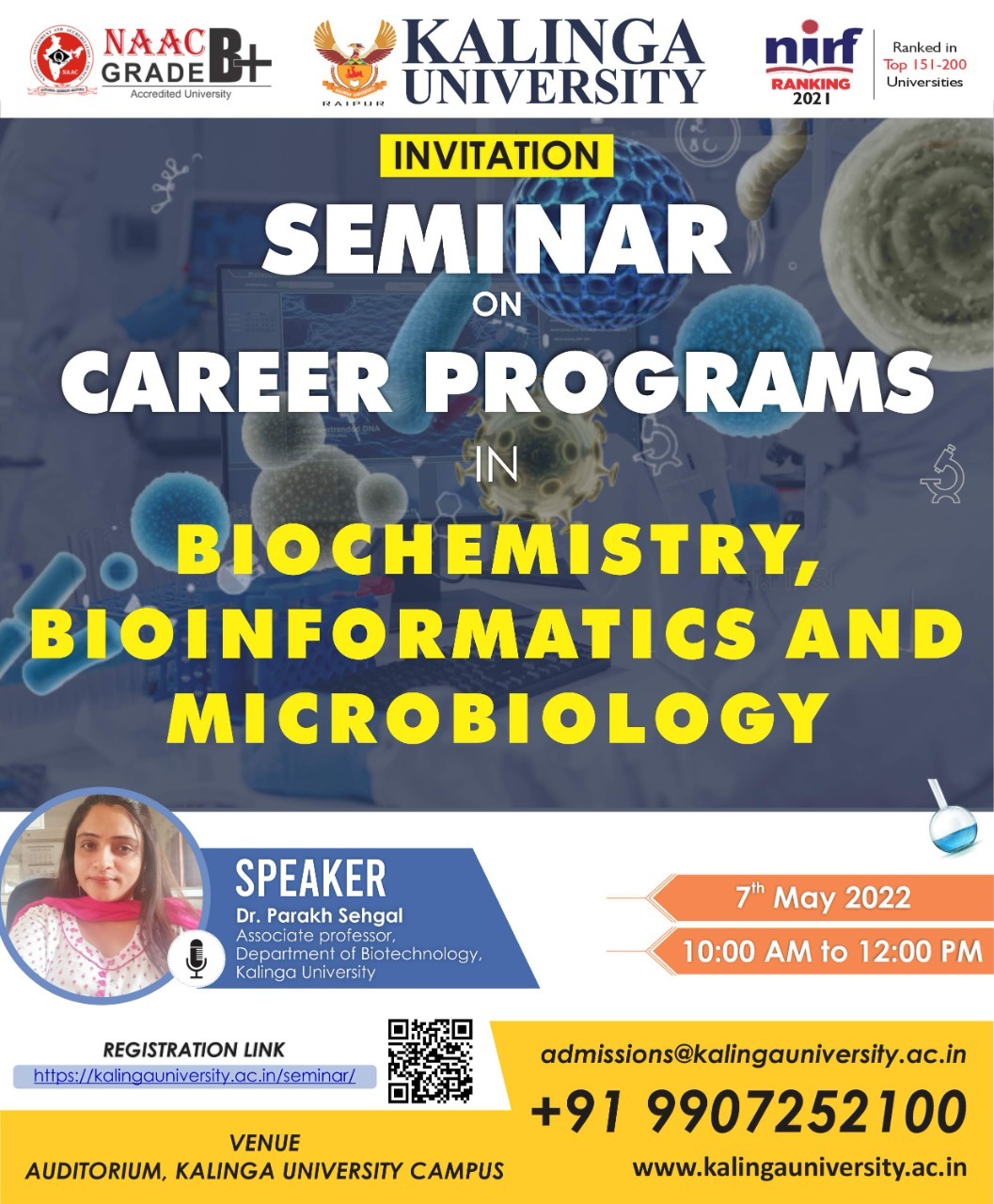 It is worth mentioning that Kalinga University regularly organize such seminars free of cost for the benefit of students of different schools and colleges final year students under Corporate Social Responsibility (CSR) initiative. The aim is to inform students about the career opportunities available for them so that as per their interest and aspirations, students can opt for suitable career for their bright future. Kalinga University, Raipur is a NAAC Accredited University with Grade B+ and Ranked in Top 151-200
Universities of the Country in NIRF Rankings 2021, has been established as a multidisciplinary research focused and student centric University with the aim to support learning that will advance human knowledge to develop and educate the leaders of tomorrow and promote research to find solutions of
the most pressing problems of the state, the country and the global community.