"Start thinking about Conservation of wetlands before it's too late"
Raipur (thestates.news) | On Thursday, 02-02-2023, Green Club and Department of Zoology, Kalinga University, Naya Raipur in collaboration with the Mahasamund Forest Division of Forest and Climate Change Department, Government of Chhattisgarh organized the "World Wetlands Day" program at Van Chetna Kendra, Kodar Dam, Patwa, Mahasamund. Around 120 students from Kalinga University (Naya Raipur), Shyam Vidhya Mandir (Mahasamund), Shyam Balaji College (Mahasamund), Maa Gaytri Higher Secondary School (Mahasamund), Eklavya Residency School (Bhoring), and Gyannanjali Public School (Mahasamund) enthusiastically participated in the cleaning drive activity. This joint event was organized to spread awareness among the public regarding the importance of Wetland conservation.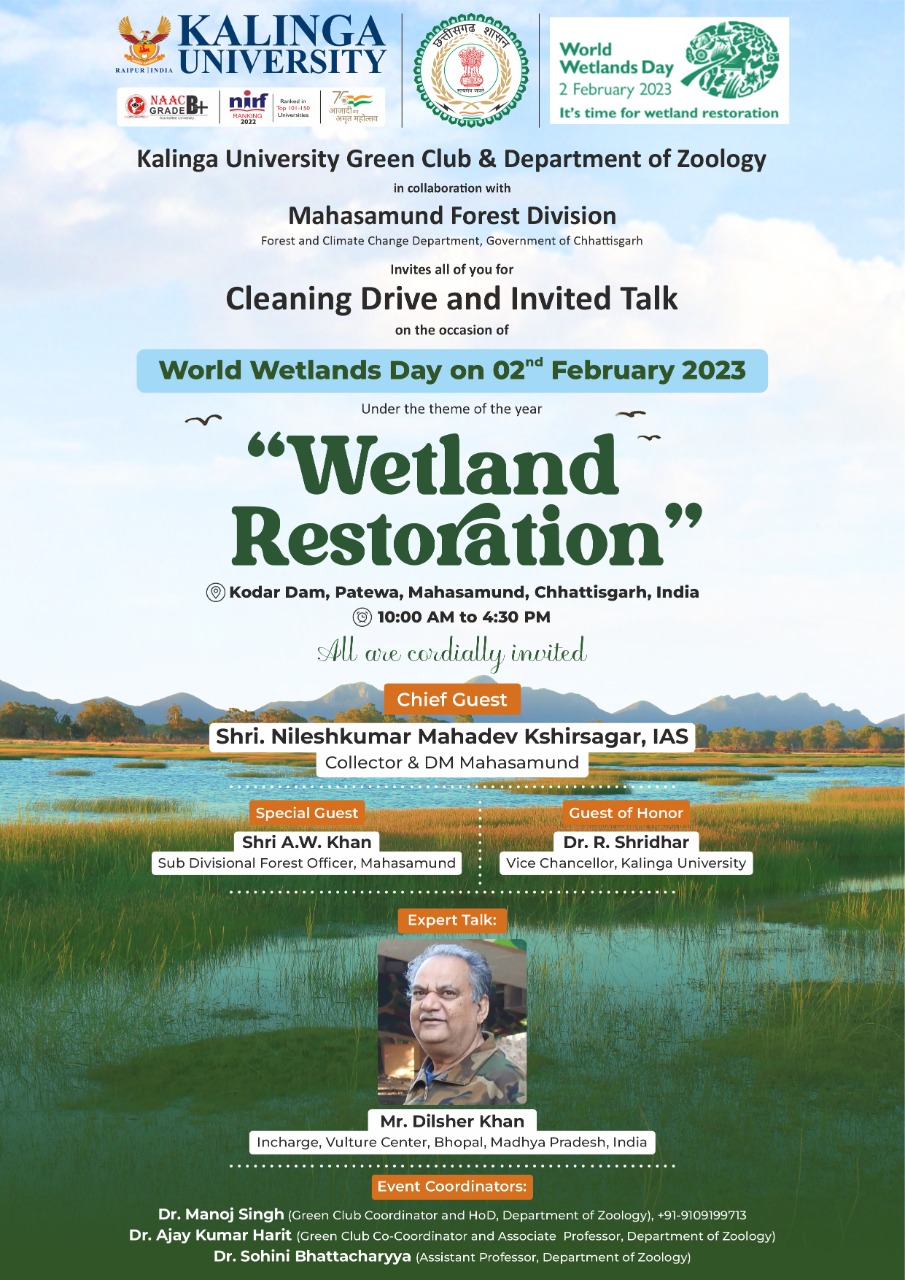 Every year, World Wetlands Day is celebrated on 2nd February to create awareness of the need for the conservation of wetlands for the betterment of the ecosystem and climate change problems. Wetlands consist of both natural and manmade sites like lakes, swamps, marshes, mangroves, salt pans, tidal flats, and reservoirs. The theme of this year's World Wetlands Day is "Wetland Restoration" to ensure that Wetlands can function properly and environmental sustainability can be maintained.
Honourable Collector Shri Nileshkumar Mahadev Kshirsagar (I.A.S) was the chief guest and Dr. R. Shridhar (Vice-Chancellor of Kalinga University) was the Guest of Honour of the event. The event was inaugurated with the speech of Hon. Guests Shri Nileshkumar and Dr. Sridhar. They motivated and oriented the students regarding the importance of water bodies for a healthy future. Shri Nileshkumar appreciated the efforts of Mr Pankaj Rajput (Divisional Forest Officer, Mahasamund) for taking such initiatives for the betterment of society. The occasion was graced by the presence of Mr. Wahid Khan (SDO, Mahasamund), Mr. Adnan Paul (District Officer, Nehru Yuva Kendra), Mr. Kshirsagar Nayak (Chief Municipal Officer, Tungaon), Dr. Asha Ambhaikar (Dean Student Welfare, Kalinga University) & Dr. Sushma Dubey (Officiating Dean, Faculty of Life Sciences, Kalinga University). Everyone actively participated in the cleaning drive. Around 289 Kg of waste comprising of plastic bottles, water pouches, gutka pouches, cigarette buds, chip packets etc. were collected during the cleaning drive from the area in and around Van Chetna Kendra. The waste materials were categorised, estimated, and then was handed over to Tungaon Municipal Authorities for proper disposal. After the cleaning drive all participants enjoyed lunch arranged by the Forest Department.
An Expert Talk, delivered by Mr. Dilsher Khan, Vulture Expert from Bhopal, Madhya Pradesh. Mr. Khan delivered the talk along with gaming activities for making the session more interesting for the students. This was followed by an interaction session with the local audience, then certificates were distributed to the students. The event was concluded with vote of thanks, delivered by Dr. Manoj Singh (Green Club Coordinator, Kalinga University). The event was conducted under the supervision of Dr. Ajay Kumar Harit (Green Club Coordinator, KU) and Dr. Sohini Bhattacharya (Assistant Professor, KU) along with the support of Mr. Lukesh Sagar, Ms. Priya Paul, Ms Chaitramayee Pradhan and Ms. Urvashi Sharma (Research Scholars of Kalinga University).