Raipur (Thestates.news), A two – day fourth international conference on the topic ' Role of Innovation , Entrepreneurship and Management for Sustainable Development ' was organized by the School of Management of OP Jindal University , Raigarh at Sayaji Hotel , Raipur . The conference was inaugurated by University Vice Chancellor Dr. R.D. Patidar , IIT Bhilai Director Professor Rajeev Prakash, ICSI -Raipur Chapter Chairman C.S. Sharad Kankani , CSVTU-Bhilai Vice Chancellor Dr. MK Verma and JSP President Pradeep Tandon lit the lamp . Then, the program started after the national anthems of Philippines , Oman and India . Organized in collaboration with Sohar University – Oman and Josh Maria College – Philippines , this international conference aims to bring together all the stakeholders related to areas like Innovation , Entrepreneurship and Management on one platform , to discuss their role in sustainable development , along with innovations . – Along with presenting the solutions to be adopted to face the practical challenges of sustainable development .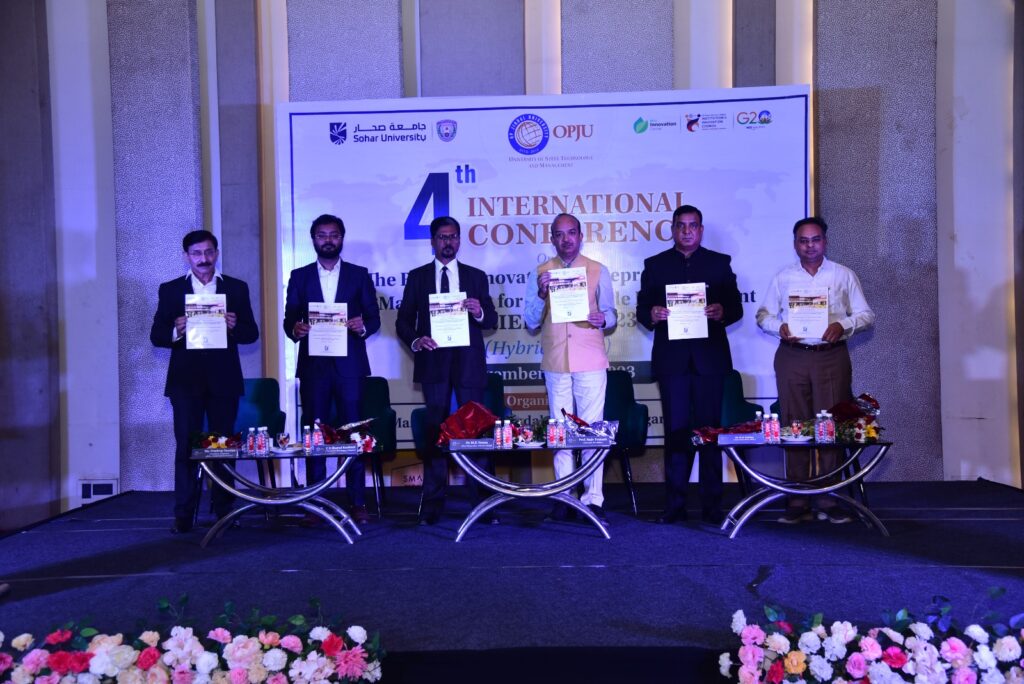 Professor Rajeev Prakash told how small innovations can change the society . _ _ _ _ _ _ _ He said that there is no need to go out anywhere to bring change , rather a person can bring a big change in the society with his small thoughts .
CS Sharad Kankani told how he achieved great success at a young age . _ _ _ _ On this occasion, Vice Chancellor of Sohar University , Dr. Hamdan Suleman and Associate Professor of University of North Georgia , Dr. Siew Chan expressed his views through video conferencing . _ _
Pradeep Tandon said that to maintain management and stability , it is not enough to have a good product . _ Market feedback , employee behavior etc. are important for the sustainability of any product .
The two- day Fourth International Conference will be concluded at OP Jindal University , Raigarh , where professors from universities from different states will present their views on technical subjects .