Raipur (thestates.news) Kalinga University, renowned for its commitment to global education, hosted a transformative event aimed at empowering international students with the knowledge necessary to pursue higher education in the United States with scholarships. The event, organized by the University's Student Welfare department, featured an informative session conducted by Dr. Deborah Rosario, representing the US Education India Foundation.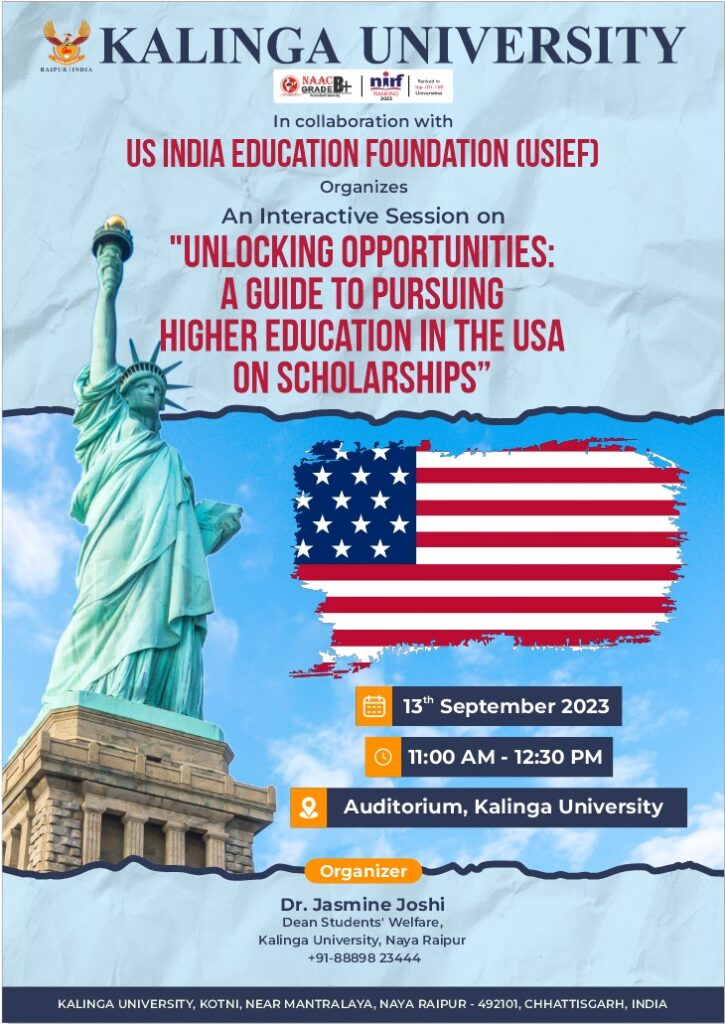 The event commenced with a warm welcome from Dr. Jasmine Joshi, Dean of Students' Welfare, who emphasized the university's dedication to supporting international students in their educational pursuits. Dr. Joshi's encouraging words set the tone for an engaging and enlightening session.
Dr. Deborah Rosario, an expert in the field of international education, led an insightful session. She provided valuable insights on the application process, elucidated the various documents and write-ups required for successful applications, and introduced students to essential websites for researching scholarships and understanding the cost of living in different countries. Her expertise left attendees well-prepared and inspired to embark on their educational journeys in the US.
The interactive nature of the event was evident through the numerous questions and queries posed by the enthusiastic attendees. Dr. Rosario patiently addressed each query, ensuring that students left with a clear understanding of the opportunities available to them.
The program's anchor was Emmanuel Wenyu, an international student who is enrolled in MBA programme at Kalinga University. His eloquent and engaging presence added to the overall impact of the event.
Mrs. Parvinder Shesh, International Student Coordinator, concluded the event with a heartfelt vote of thanks, expressing gratitude to the attendees, Dr. Rosario, and the organizing team for their efforts in making the event a success.
Kalinga University, Raipur is a well-known Educational Institute in Central India and has emerged as Centre of Excellence in Higher Education. The University not only focusses on quality education but also emphasizes on the holistic development of the students. Kalinga University remains committed to nurturing the dreams and aspirations of its international student community. The "Unlocking Opportunities" event served as a testament to this commitment, equipping students with the knowledge and guidance necessary to unlock the doors to higher education in the United States.